Friday, December 17th, 2010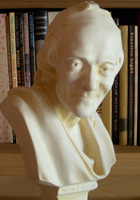 From Aljean Harmetz's obituary of Blake Edwards (1922-2010).
The critic Andrew Sarris wrote in 1968 that Mr. Edwards had gotten "some of his biggest laughs out of jokes that are too gruesome for most horror films."
[snip]
A lifelong depressive, Mr. Edwards told The New York Times in 2001 that at one point his depression was so bad that he became "seriously suicidal." After deciding that shooting himself would be too messy and drowning too uncertain, he decided to slit his wrists on the beach at Malibu while looking at the ocean. But while he was holding a two-sided razor, his Great Dane started licking his ear, and his retriever, eager for a game of fetch, dropped a ball in his lap. Trying to get the dog to go away, Mr. Edwards threw the ball, dropped the razor and dislocated his shoulder. "So I think to myself," he said, "this just isn't a day to commit suicide." Trying to retrieve the razor, he stepped on it and ended up in the emergency room.