Thursday, October 28th, 2010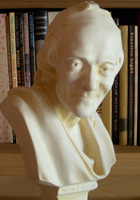 Guest-posting at Felix Salmon, Justin Fox complains about Times financial columnist Gretchen Morgenson's slapdash ways (she "gets basic facts wrong, seemingly misunderstands the businesses she covers, offers assertions that she fails to back up with evidence…"), but then he pronounces her indispensable.
How does she accomplish this? I think it's partly that the same bullheadedness and simplistic approach that drives readers like me and Felix crazy actually enables Morgenson to zero in on targets that those more interested in nuance totally miss. It's also that Morgenson suffuses her work with a sort of high moral dudgeon—and disgust for the evil ways of Wall Street—that more "sophisticated" journalists won't allow themselves. The results speak for themselves: Sometimes battering rams work better than X-Acto knives. And I say that as someone who vastly prefers X-Acto knives (stylistically speaking).