Morning Snip:
Borrowed Plumes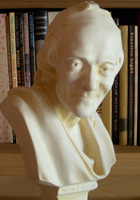 Joseph Grano, former head of Paine Webber and a producer of Jersey Boys, wants to found a museum of Italian-American heritage. We had quite forgotten how blush-making this sort of thing can be. (NYT)
So, what he has in mind for Pier A, at the northern edge of Battery Park, is a celebration, not just of Italian ingenuity and flair, but also of all elements of la dolce vita. For starters, he envisions an entrance flanked by a Roman chariot and a Ferrari — "to show the progress," he said.
Beyond that, there would be exhibits showcasing artists like da Vinci and Michelangelo and composers like Puccini and Verdi. "You can't argue with the contribution to the arts," he said.
Don't forget the Berlusconi Room!