Real Estate Note:
Millstone
15 October 2018
When I read the Real Estate section in the Sunday Times, I focus on the ads, hoping to find a house in Bronxville that I happen to remember. Most I don't. But I had barely taken a glance at a page featuring properties available through realtors William Pitt/Julia B Fee/Sotheby's International when I spotted a very familiar façade.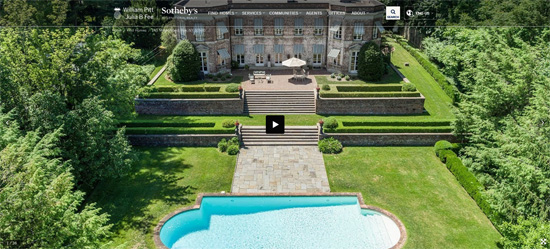 Of course, when I last saw it, it was a dump, at least on the outside. That was probably in the winter of 1967-8, soon before the owner of the house, my father's brother, took a new job in New Hampshire, and my own family moved to Houston. There was no swimming pool, needless to say. I think that there was some sort of reflection pond, but one was discouraged from closer examination by the parlous state of the steps. There was no landscaping to speak of, no gay awnings, no holiday tables.
It's on the market for $6,495,000. If you think that's a lot of money, let me tell you that it's on page seventeen of the Web site — the immediately preceding page has a whole bunches of houses priced at $6.5 million. But it's certainly a very great deal more than my uncle paid for it back in the sixties. I think that he bought it, in slightly derelict condition, from the heirs of the people who commissioned David Adler to build it. In those days, there was hardly any market for houses like this. My father thought my uncle was nuts — also needless to say. My aunt and uncle, envisioning long years of DIY improvements, called it Millstone. But they lived there for only a few years.
Of course, it was the grandest thing I'd ever seen, and the first time I visited, I wanted to move in. If my parents died in a plane crash, then this would be home. I adored my aunt and uncle, and when they died (not together), I had to work through a lot more unexamined grief than the deaths of my parents had caused. It was not very pleasant to see how needy my affection was, and how wilfully I inflicted myself upon them. I can make excuses, but that's all they are; it's not very pretty. But the house certainly is, wouldn't you say?