Weekend Update:
En français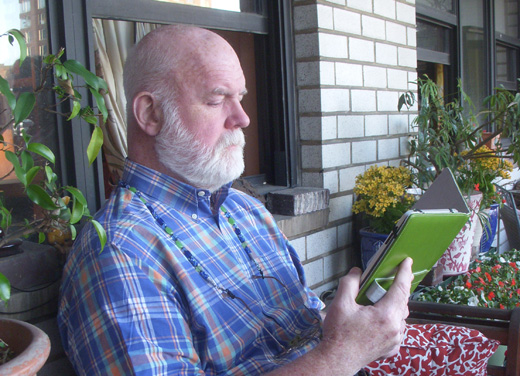 Oh, dear. This picture isn't going to do at all, not, at least, unless I come right out and confess how bogus it is. The glasses are a giveway — where are the glasses? I don't need them, of course, because I'm not actually reading my iPad, the screen of which is dark. (Maybe that explains my frown: I can't make any sense of a black screen. ) The picture is a pose, taken to illustrate this very entry. Gee, I'm good at looking natural! The picture makes even me feel a little uncertain. It's as though I'm reading my latest report card, and finding it wanting.
What the picture was supposed to convey was the pleasure of reading things on an iPad — which, as I say, it's no surprise this isn't, since I'm not actually reading the iPad, only pretending. At first, I was just going to write a note to my friend Jean Ruaud, the author of one of the first Web logs that I began following back in 2004, before I had my own. Jean just celebrated nine years of  blogging, an anniversary that puts him well ahead of the pack. By the time I tuned in, Jean was on his second blog, Douze lunes. He doesn't say just how long Mnémoglyphes has been going, and I'm the last person in the world to ask. But it has been going for "many years." Even if you can't read a word of French, you ought to have a look at the stunning photograph that illustrates his anniversary entry, "Neuf ans."
I was going to write to Jean, but I decided to write to you as well; isn't that what blogs are for? This afternoon, for the first time, I caught up on Mnémoglyphes in the comfort of my favorite reading chair. Instead of craning my neck at a computer screen, I held Jean's texts in my hands exactly as I would have done had they'd been published in a magazine. When I wanted to check a word in the dictionary — Jean is far too gifted a writer for me to settle on getting the general drift of what he is talking about — I set down the iPad exactly as I should have set down a book. It was all quite pleasant and civilized, and — I know I'm repeating myself but this point cannot be trumpeted too loudly in these early days — I was in no hurry to get to the end of the piece. The act of reading HTML has been humanized, at long last, by Apple's invention. The only people to complain will be people who aren't very serious readers — by which I mean, of course, readers for pleasure.
As the photograph above so beautifully illustrates.