Friday Movies: The Walker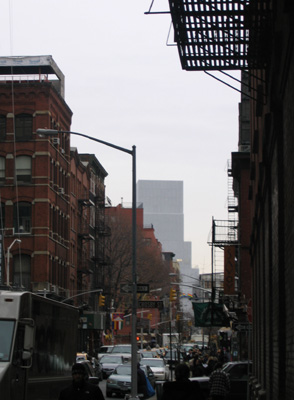 The new New Museum – a chimerical presence at the end of Prince Street.
Despite an indifferent review in the Times, I went back to the Angelika this week for Paul Schrader's The Walker. What did I find when I got there? A shuttered box office. Along with two other hardy souls, I waited in the cold for the place to open, unsure that it would. If I hadn't had plenty of strange and funky experiences at other movie houses, I'd begin to wonder if the Angelika was the place to catch the first show of the day. The escalator hadn't been turned on. Once again, mistakes about choice of lens were made in the projection booth. For a solid four minutes of one of the film's most suspenseful moments, the picture was split across the middle, so that Kristin Scott Thomas's uncertain smile floated above her eyes. I wish that that sort of thing were more unusual than it is.
The cloud cover must have been very thick, because it didn't seem to be quite daylight. The narrow streets of SoHo and NoLIta were off-puttingly umbrous; I felt that I was in a not-quite-right dream. The subways, in contrast, were their jolly regular selves. On the way down, I "walked" my way to the front of the train, advancing a car at every station except Grand Central until, at 33rd Street, I reached the first car. This is a game that I play every week, to the extent that a train is at the station when I swing through the turnstiles.* For much of the trip back uptown, I was entertained by two German men who were talking about something that I never caught the gist of. Both ways, I read Tim Blanning's The Pursuit of Glory, which has finally grabbed me hard enough that I'm willing to carry a heavy book around. (On the plus side, it's an ideal luncheon companion, because its pages lay flat when it's open.)
¶ The Walker.
* The exits at the downtown Bleecker Street station are the front and the rear of the platform. Leaving by the front, one traverses a long concourse over the IND tracks and climbs out at the corner of Broadway and Houston, only a block away from the Angelika.