What I'm Reading/In the Book Review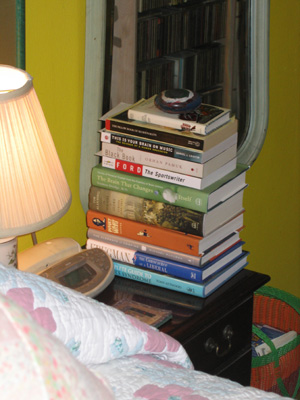 Assiduous readers will notice that two books have disappeared from the pile. That's because I've read them.* I was tempted to replace them with books from the supplemental piles elsewhere, but the shorter stack was so pleasing that I decided to leave it alone. Besides, it's not my only "what I'm reading" pile. I've got another one, comprising six books that I march through for an hour every morning. That's all I'll say about the "morning reading" project at this time.
I did slip in Michael Ruhlman's The Elements of Cooking (the grey spine third from the bottom). This is not a book to read, but a culinary reference. Why did I buy it? I've no idea.  Someone must have been singing its praises. Looking through it, I don't see very much that I don't already know, or that isn't likely to be in Harold McGee's On Food and Cooking. It's a perfectly nice book, handsomely laid out and well-written. Maybe you can tell me why I have it. I've put it in the pile so that I'll have to give a thorough once-over in order to remove it from the pile – and hence from my conscience.
Not only did I remove the stack of CDs, shown in last week's photo, but I filed them all where they belonged. Now I really can't find them. (Does anyone else out there have Night Song, that super, one-off, Michael Brook-produced CD by Nusrat Fateh Ali Khan?)
* But what does this mean? Bet you didn't think that there was anything complicated about "reading a book." Ha! If you don't want to be branded as a clueless sniveling Anglophone, stay tuned for our account of Pierre Bayard's How to Talk About Books You Haven't Read – the title of which, in the original French, is a question.