Daily Office:
Monday
¶ Matins: Uh-oh. This weekend, both Maureen Dowd and Frank Rich sang what sounded like swan songs. Rehearsals for swan songs, anyway. An appeal to the SpOck in Obama; 2009 as the new 1500.
¶ Lauds: In Istanbul, a shiny new mosque has opened, the first to be designed by a woman, Zeynef Fadıllıoğlu. It's a knockout. (via  Good)
¶ Prime: Here's a New York story that has been widely retailed around the Blogosphere, from The Morning News to An Aesthete's Lament: Drew University senior Maximilian Sinsteden is already an accomplished, sought-after interior designer.
¶ Tierce: We start off the week's news (there's only one story) with John Eligon's wry portrait of Justice A Kirke Bartley Jr.
So, a lawyer, while questioning a witness, tells the judge, Justice A. Kirke Bartley Jr., that he has a request pertaining to a diamond-encrusted gold necklace worth tens of thousands of dollars that is in evidence.

Justice Bartley's response (this is the punch line): "I won't be wearing it, no."

This is the lighter side of the trial of Brooke Astor's son and one of Mrs. Astor's lawyers.
¶ Sext: If you're going to be serious about the l-a-t-e-s-t episode of Star Trek, it's probably best to start at The House Next Door, where Matt Maul confesses (I can think of no other word) to having been a fan for "thirty-five years."
¶ Nones: On opposite stories of the Atlantic, dueling Chinese heroines. Here, now living in Queens, it's Geng He, the wife of an insistent dissident who made a daring escape. There, it's Nina Wang, "Asia's richest woman," who has the comparative disadvantage of being dead.
¶ Vespers: John Self considers Kazuo Ishiguro's Nocturnes, at Asylum.
¶ Compline: Aside from being a brisk account of clinical depression that reads like one woman's serious problem, and not the disease of the week, Daphne Merkin's Times Magazine piece, "A Journey Through Darkness," dwells on the bleakness of treatment facilities.
Oremus…
Once, during his campaign trip to Europe, Mr. Obama told me that he had briefly sold subscriptions to The New York Times when he was at Columbia University to help pay for school, but confessed he wasn't very good at it.

I said that if he won the presidency, he'd be pretty busy, but that maybe he could find time to sell a few more subscriptions. It would really help us out in the current business crunch.

He gave me that wry Spock look.
Mr Rich:
The causes of journalism's downfall — some self-inflicted, some beyond anyone's control (a worldwide economic meltdown) — are well known. To time-travel back to the dawn of the technological strand of the disaster, search YouTube for "1981 primitive Internet report on KRON." What you'll find is a 28-year-old local television news piece from San Francisco about a "far-fetched," pre-Web experiment by the city's two papers, The Chronicle and The Examiner, to distribute their wares to readers with home computers via primitive phone modems. Though there were at most 3,000 people in the Bay Area with PCs then, some 500 mailed in coupons for the service to The Chronicle alone. But, as the anchorwoman assures us at the end, with a two-hour download time (at $5 an hour), "the new telepaper won't be much competition for the 20-cent street edition."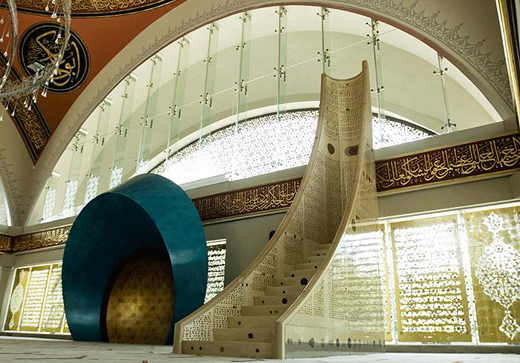 § Lauds. That's quite a mihrab! Thomas Seiberg writes, at The National,
In a country where most mosques even today are variations of the classical designs of Sinan, the 16th-century Ottoman master architect, and where women have commissioned mosques before, but never built them, both the design and the designer of the Sakirin Mosque are a departure from the norm. The state institution overseeing Islam in the secular Turkish republic, the presidency of religious affairs, has recently signalled that it wants to strengthen the role of women by appointing them to leading religious posts, among other steps. But in everyday life, women are still mostly in the background when it comes to such projects as the Sakirin Mosque.
§ Prime. Slate gives the piece its weekly "Must Skip" award.
New York's profile of Maximilian Sinsteden, a consummate preppie and budding designer who repurposes ascots as furniture ties, is cringe-worthy.
The "trad" sites (Ivy Style, &c) haven't picked it up yet, perhaps because they're all about preppifying men, not rooms.
I just want the pink pants. (Imagine!)
§ Tierce. The late Mrs Astor would surely have appreciated the small mercy Justice Bartley's dry wit. This is his "the most noteworthy case" of his career to date.
§ Sext. This morning at breakfast, my dear wife announced an intention to see Star Trek with Fossil Darling, since "you don't want to." I was rather surprised that she did, given her lack of interest in all previous add-ons since the first "Star Trek movie" — the one with Stephen Collins and Persis Khambatta. I did insist, however, that there would be a test, in Klingon.
For my part, Galaxy Quest is the conclusive installment of Star Trek.
§ Nones. Ms Geng is an American tale because her rescue was effected by Texan Christianists; although her story is genuinely noble, she has made herself something of a pawn in the old China-Hands game.  
Ultimately, the three made it to Thailand, where they were granted refugee status, facilitated by international rights groups including China Aid, a Christian organization based in Midland, Tex., which has sought to promote Christianity and protect underground church leaders in China.
Her rescuers (and the Times) can be counted upon to paint her as the victim of the (Communist) Party — as if this "organization" had invented practices unknown to the mandarins.
Ms. Geng's tale stands out not just because it involves a cinematic escape, with elements like stalled motorcycles and nonstop travel with little food or sleep. It is remarkable, human rights activists say, because it reveals how China uses family members of dissidents as leverage against them. And it shows the extreme measures a small number of political opponents will take to deny the authorities that leverage. Ms. Geng insists, though, that her husband knew nothing of her plans.
As for Nina Wang, hers is a juicy Hong Kong scandal with a chorus (if not a cast) of gold-bedecked taitais.
Just two years after she secured the fortune, in a legal battle that clocked up more than HK$560m in costs, Nina died.

Adding to the pathos was the fact that she had appeared uninterested in spending the money – she shopped for cheap brands and fast food, avoided the expensive salons or shows favoured by Hong Kong's flashier rich set, and was renowned for her frugality while running a huge property empire.

She worked to transform the Chinachem conglomerate into a US$3.5bn empire owning hundreds of office towers and companies around the world.

If the feng shui man, and property dealer, Tony Chan, is to be believed, she had also embarked on a secret affair with him.
If only it would be generally recognized that the Middle Country really does have the oldest (survivng) culture on the planet — that's its problem! 
§ Vespers. I'm in the middle of Nocturnes at the moment. I certainly agree with Mr Self that the second story, "Come Rain or Come Shine," is funny in a horrible sort of way — The Unconsoled compacted and retooled as slapstick. The recipe for "smells" sounds like a dare.
The middle-sezed saucepan. It's probably on the stove already. Put about a pint of water in it. Add two beef stock cubes, one dessertspoon of cumin, one tablespoon of paprika, two tablespoons of vinegar, a generous lot of bay leaves. Got that? Now you put in there a leather shoe or boot, upside down, so the sole's not actually immersed in the liquid. That's so you don't get any hint of burning rubber. Then you turn on the gas, bring the concoction to the boil, let is sit there simmering. Pretty soon, you'll notice the smell.
§ Compline. Having had occasion to visit family member's in psychiatric clinics, I've been astonished by what I can only call the autism of the design of these places. The nicer one was very clean but overlighted, while the other was no better than a dingy prison. In both, blaring television sets made thought (not to mention peace) unattainable.
Why are hospitals in general such dreadfully-designed environments?