Daily Office:
Wednesday
¶ Matins: In what is certainly the most important piece of intellectual psychology that I have seen this decade, Tom Jacobs writes up Jonathan Haidt's research into moral psychology. A must-read, the article is compulsively readable.
¶ Lauds: Say "cheese!" Conceptual artist Filippo Panseca trowels on the fontina for his startlingly high-tack painting of — who? I don't remember reading about this scene in Edith Hamilton. (Via  Arts Journal)
¶ Prime: There's a great cartoon in this week's New Yorker (okay, drawing). A financial adviser tells his clients that what they ought to do is use a time machine to travel back sixteen months and convert to cash. In case you're going back further than that, this poster from Topatoco may come in handy.
¶ Tierce: The Rattner imbroglio will probably reprise the chorus of complaints about President Obama's personnel picks for economic recovery: all too often, they look like the "wizards" behind last year's financial meltdown. 
¶ Sext: Freshman Composition in the Age of Tweets: "I Can Haz Writin Skillz?" (via kottke.org)
¶ Nones: Christopher Hitchens fulminates about Turkey at Slate, and takes France's diplomatic kick-turning rather too piously. "Ankara Shows Its Hand."  (via  The Morning News)
¶ Vespers: Will somebody please tell me why Dwight Garner, and not Janet Maslin, reviewed the new book about (not by) Helen Gurley Brown? A man instead of a woman?
¶ Compline: Hats off to Ben Jervey, a committed environmentalist who hates Earth Day.
Oremus…
§ Matins. If this is food for thought, I'll be feasting on leftovers for the foreseeable future. Mr Haidt proposes that moral psychology rests upon five foundations, present everywhere but weighted differently by different cultures. In the West, a natural meiosis appears to have occurred, with liberals and conservatives pulling apart on a two-to-three basis. Two of the foundations mean everything to liberals; the rest don't.
One of the foundations, "purity/sanctity," is the one that will keep me busy for a while.
• Purity/sanctity. The body and certain aspects of life are sacred. Cleanliness and health, as well as their derivatives of chastity and piety, are all good. Pollution, contamination and the associated character traits of lust and greed are all bad.
On the facet of it, my response to this concept is aggressively liberal — I regard it as counterprogressive and antediluvian. A bad thing, in short. Mr Haidt counsels tolerance and respect. Respect for the patriarchy that has exploited this foundation, however, is something that I shall die without acknowledging.
But I find myself wondering already if this concept hasn't been metastatized in my thinking. Replace "pollution" with "ignorance" and "lust and greed" with "envious resentment," and "cleanliness" — now a matter of soap, water, and inoculations — with "intellectual honesty," and I'm as passionately concerned with "purity" as any racist.
§ Lauds. In any case, the half-naked divinities are impersonated by Silvio Berlusconi and his new girlfriend, Mara Carfagna. If the Italian president looks half that good in the buff, I'll be damned…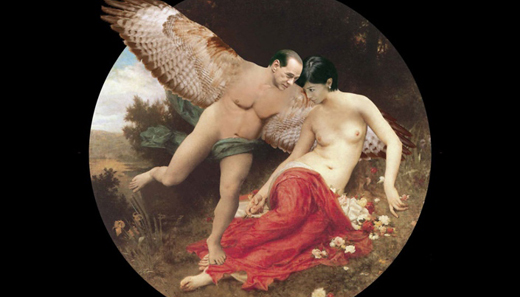 Message (in a bottle) to Sarko: En garde!
§ Prime. Just wait. The next time they revive Connecticut Yankee, Hank Martin will pull one of these posters out of a pocket on his overalls and unroll it very carefully.
§ Tierce. But where to turn for counselors with untainted experience? Consider the following comment to a Glenn Greenwald post at Salon about "Larry Summers, Tim Geithner and Wall Street's ownership of government." Mr Greenwald writes,
Just think about how this works. People like Rubin, Summers and Gensler shuffle back and forth from the public to the private sector and back again, repeatedly switching places with their GOP counterparts in this endless public/private sector.
Commentator Omooex observes,
We have been conditioned since childhood to think of this shuttling as normal. We had eight years with a Vice President and Secretary of Defense, as well as many other administration officials that do a tour in the government, followed by a tour of the private sector, and then back again. It seems general knowledge; there is almost an anti-American pall to pointing this out or criticizing it or the history of high level government participation of private sector prime movers since the early 20th century.

Similar criticisms of Cheney [and of Bush, who appointed the CEO of huckstering Providian to be deputy attorney general]–that his relationship with private corporations influenced his dealings with entire sectors of the economy to the detriment of the country–are and have been shot down immediately and labeled apostasy by our discourse echo chambers.

This is, after all, the American way; the business of America is business. And the truth behind that truism is about to destroy us.
Worse, for the past thirty years or more, the business of America has been finance.
§ Sext. What is stoopid is thinking that it's cool to be nineteen.
Prerequisites

Students must have completed at least two of the following.

ENG: 232WR—Advanced Tweeting: The Elements of Droll
LIT: 223—Early-21st-Century Literature: 140 Characters or Less
ENG: 102—Staring Blankly at Handheld Devices While Others Are Talking
ENG: 301—Advanced Blog and Book Skimming
ENG: 231WR—Facebook Wall Alliteration and Assonance
LIT: 202—The Literary Merits of Lolcats
LIT: 209—Internet-Age Surrealistic Narcissism and Self-Absorption
§ Nones. What Mr Hitchens doesn't take into account is the profound readjustment of national identity that is making Turkey such an interesting place today. It is very hard for Westerners to understand the polarities of Turkish politics in the wake of Atatürk, the militant secularist whose forging of Turkey from the ruins of the Ottoman Empire was beset by contradictions that are only now being ventilated in public.
On the whole, I think that the Turks were right to expect a more apologetic response from the Danish government with regard to those awful 2005 cartoons. As for the Kurds, Turks should be pressed not to grant political autonomy but to guarantee that another Armenian atrocity isn't in the offing.
§ Vespers. Not that it's a bad review, but just… it seems to me that many women, especially smart women who went to good schools, haven't quite made up their minds about Ms Brown. I think that she was a catalyst of feminism: there had always been women with the nerve to live her kind of "lifestyle," but she exhorted a lot of more cautious girls to give having fun a try — about as feminist an exercise as could be imagined in the Sixties.
§ Compline. Here's material for a T-shirt (with some foregoing material):
Let's start with the rhetoric. It's not Mother Earth that needs saving. No matter what we do to it, the planet is going to be just fine. Given time, the global ecosystem will adapt, evolve, and recover. Our species might not be so fortunate. As Romm writes, "Ultimately, stopping climate change is not about preserving the earth or creation but about preserving ourselves…The focus needs to stay on the health and well-being of billions of humans because, ultimately, humans are the ones who will experience the most prolonged suffering." Make that message clear, and we've got a fighting chance.

It's not Earth that needs saving. It's us.